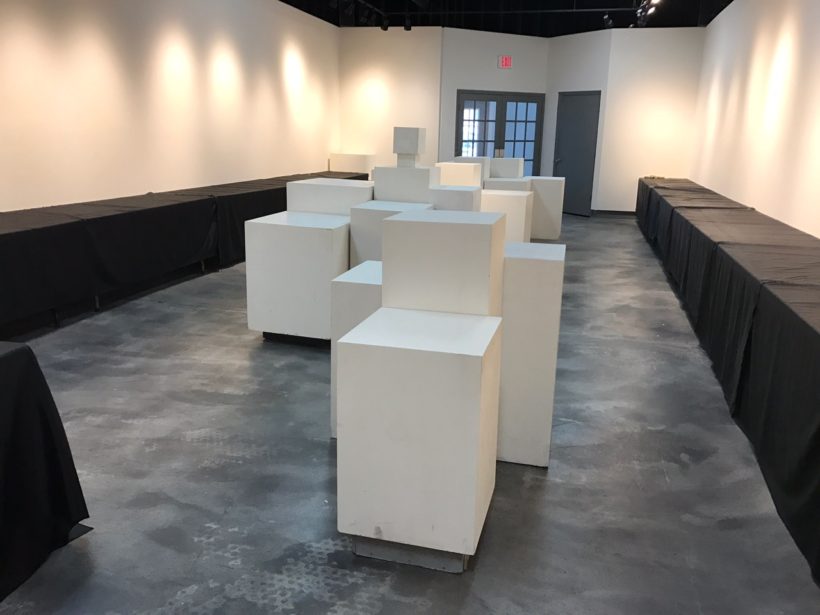 Gallery & Exhibitions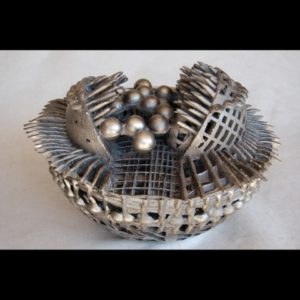 Hanna Jubran
July 1-31
Reception: July 11th, 5:30 pm
Lunch and Learn: Tuesday, July 25th Noon-1pm
Hanna Jubran received his M.F.A. in sculpture from the University of Wisconsin-Milwaukee and is currently a Sculpture Professor and
Sculpture Area Coordinator at East Carolina University in Greenville, North Carolina.
Hanna's work addresses the concepts of time, movement, balance and space. Each sculpture occupies and creates its own reality influenced by its immediate surroundings. The work does not rely on one media to evoke the intended response, but takes advantage of compatible materials such as, wood, granite, steel, iron and bronze.
---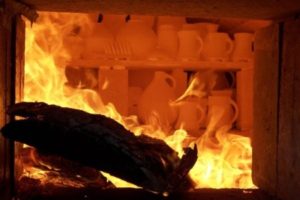 Woodfire Pottery with Starworks  
Reception:  Tues., August 1, 5:30 pm
Lunch & Learn:  Tues, August 29, 12n – 1pm
North Carolina Potters collaborate each year as part of the Woodfire Conference.  This group of talented potters will be exhibiting their work from the Woodfire conference all month.  Come by and check out the beautiful pottery from artisans around our state!
More information on the conference: This is an International Woodfire Conference at STARworks in Star, N.C. and is a collaboration between STARworks, the North Carolina Pottery Center, and the woodfire potters of North Carolina.  The main conference will be preceded by several firing pre-conference workshops across the state.
---
Trunk Show with Sassy Gems by Geri!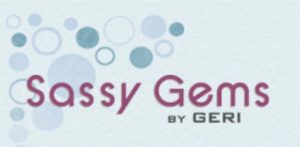 August 17-19
Randolph Arts Guild Shop
The Randolph Arts Guild Shop would like to help you shop for yourself! They are hosting a three day show and sale featuring Sassy Gems by Geri designs. Come and shop for someone special (or for yourself)! This is a "one-of-a-kind" chance to meet one of its featured artists – Geri Coenen of Greensboro! Shop hours are weekdays 10 am-5 pm and Saturdays 10 am -2 pm.
---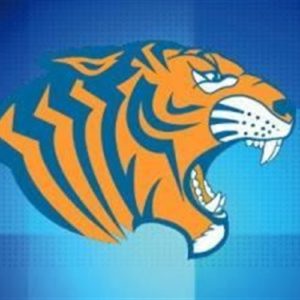 Randleman High School Alumni Show  
Reception: Tues., September 5, 5:30 pm
Lunch & Learn: Tues, September 26, 12n – 1pm
Randleman High School is a local school in Randolph County that has produced many artists across all careers.  Melissa Walker, retired art teacher at Randleman and local artists, has organized working artists to exhibit their work during the month of September.  The show will include work from 20 or more artists!
Such local artists include: Daniel Johnston, Marcus Lawson, Julie McEntire Rachlin, Derrick Sides, Susan Harrell, Tamera Dillow, Jennifer Rice, Ashley Farlow, Liz McKinnon, Angela Pritchett, Carrie Nobles, Nichole Kennedy, Briana Carter, Stacy Westbrook, Montana Lee Pennel, Karen Luther, Sarah Helser Atkinson, Brian Wood, Derrick Toomes, Jessica Nuzzo, among others!  Come on out and enjoy the variety of art from these talented artists!
---
Gallery Info
The Sara Smith Self Gallery features work from local, national, and international artists. The recently renovated 1,200 sq. ft. of exhibition space provides a beautiful setting for displaying, viewing, and appreciating works of art.
The Gallery is open Monday through Friday 10am – 5pm and Saturday 10am – 2pm.  Exhibits change monthly and a public opening reception is held the first Tuesday of every month from 5:30pm – 7:30pm.  Check our current exhibitions listed at the bottom of this page and please join us for a upcoming reception.
---
Sara Smith Self Gallery Submission Guidelines

The Randolph Arts Guild's Gallery Committee is always excited to review the work of artists from within and around our community. To submit your work for consideration please email RandolphArtsGuild@gmail.com with Gallery Submission in the subject line.
Please include the following:
3-5 images of your art
A short paragraph about what you would like to exhibit.
A brief artist statement / bio (Tell us who you are, what you do, and why you do it).
You may also include a current artistic resume and link to your website. It is not uncommon for the Gallery Committee to review an artist's work multiple times in consideration for exhibition. They will make every effort to give artist feedback regarding their submission. The Sara Smith Self Gallery exhibitions are typically booked two years in advance. Questions – call 336-629—0399 x 23.
---


Loading EntryThingy. Receive, manage and jury your calls for entries…
---
2017 Exhibition Schedule




Sara Smith Self Gallery

 

 

 

Jan 5-26

|

UMAR


 

 

Reception, Tue. Jan 10


 

 

Feb. 2-23


|

Barbara Burlingame

Reception, Tue Feb 7


 

Mar. 3,4,5


|

Potters Conference

 

Mar. 8-29

|

Youth Art Month

Reception,  Tue. Mar 9


 

 April 3-28
 

Eric Scott and

David Modler

 

 May 1-30

Kate Johnston



 June 1-30

 Juried Art Show

 July 1-31

Hanna Jubran

 

 August 1-31

Woodfire Pottery with Starworks



 September 1-30
 Randleman High School Alumni