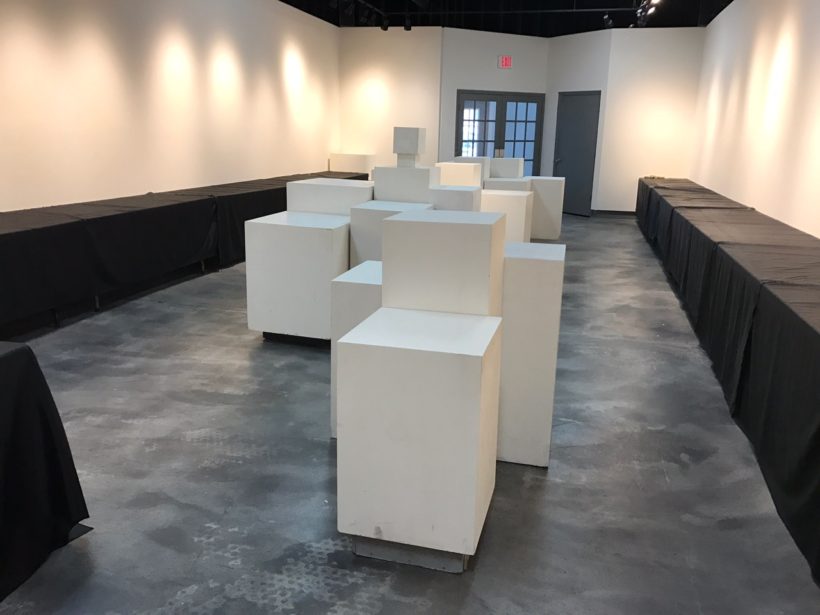 Gallery & Exhibitions
Day of the Dead
Day of the Dead
Reception:
Tues., October 10, 5:30 pm
Lunch & Learn:
Tues, October 31, 12n – 1pm
Day of the Dead Celebration: Thursday, November 2nd
6-8 pm. Sarah Smith Self Gallery
---
Itty Bitty Art  
Reception:
Tues., November 7, 5:30 pm
Lunch & Learn:
Tues, November 28, 12n – 1pm
Call to Itty Bitty Artists:
The month of November will be an exciting month as we exhibit art in the smallest format possible! This is a call to all artists who make small art! Please contact Grace McFetters at the RAG to exhibit your artwork. All two-dimensional artwork must be ready to hang. The size and price perameters are as follows:
Two dimensional art no bigger that 12"x12"
Three-dimensional art no bigger than 12"x12"x12"
No pieces to exceed $100 in sales.
**All artwork is to be delivered on Friday, November 3rd from 10 am-5pm and Saturday, November 4th from 10am-2pm**
---
Artist's Hang-Up

Reception:
Tues., December 5, 5:30 pm
Artist's Pick-up:
Friday, December 22 until 5 pm
Mark your calendars!
It's almost time for our Artist's Hang Up December show! Read below for all the stats you as artists need to know!
Drop Off: Friday, December 1st from 10 am-5pm and Saturday, December 2nd from 10 am-2pm.
Maximum: Three pieces of Art
Reception: Tuesday, December 5th 5:30-7:30 pm
Pick-up: December 18-22 for purchases, no later than the 22nd for artists
---
Gallery Info
The Sara Smith Self Gallery features work from local, national, and international artists. The recently renovated 1,200 sq. ft. of exhibition space provides a beautiful setting for displaying, viewing, and appreciating works of art.
The Gallery is open Monday through Friday 10am – 5pm and Saturday 10am – 2pm.  Exhibits change monthly and a public opening reception is held the first Tuesday of every month from 5:30pm – 7:30pm.  Check our current exhibitions listed at the bottom of this page and please join us for a upcoming reception.
---
Sara Smith Self Gallery Submission Guidelines

The Randolph Arts Guild's Gallery Committee is always excited to review the work of artists from within and around our community. To submit your work for consideration please email RandolphArtsGuild@gmail.com with Gallery Submission in the subject line.
Please include the following:
3-5 images of your art
A short paragraph about what you would like to exhibit.
A brief artist statement / bio (Tell us who you are, what you do, and why you do it).
You may also include a current artistic resume and link to your website. It is not uncommon for the Gallery Committee to review an artist's work multiple times in consideration for exhibition. They will make every effort to give artist feedback regarding their submission. The Sara Smith Self Gallery exhibitions are typically booked two years in advance. Questions – call 336-629—0399 x 23.
---
Loading EntryThingy. Receive, manage and jury your calls for entries…
---
2017 Exhibition Schedule




Sara Smith Self Gallery

 

 

 

Jan 5-26

|

UMAR


 

 

Reception, Tue. Jan 10


 

 

Feb. 2-23


|

Barbara Burlingame

Reception, Tue Feb 7


 

Mar. 3,4,5


|

Potters Conference

 

Mar. 8-29

|

Youth Art Month

Reception,  Tue. Mar 9


 

 April 3-28
 

Eric Scott and

David Modler

 

 May 1-30

Kate Johnston



 June 1-30

 Juried Art Show

 July 1-31

Hanna Jubran

 

 August 1-31

Woodfire Pottery with Starworks



 September 1-30
 Randleman High School Alumni