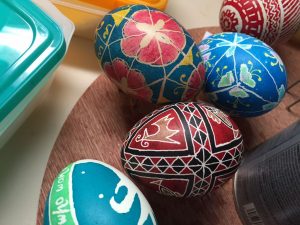 Pysanky is the art of "writing" on eggs (yes, they are raw eggs) with beeswax after they are dipped into various dyes in progressive colors. If you can write your name, you can create one of these treasured  "art eggs". This is a 200o+ year old historic tradition of designing with wax and dye. They are called Ukrainian eggs, although most of the Slavic countries have a form of this egg that  is native to their country. Each color and symbol holds a specific meaning, and they are often given to others as a symbol of trust or love. No experience is necessary. Many students return yearly for a class as the eggs that are taught  are different each year. At the end of class, you will have completed two eggs, and you will take home an egg making kit with basic dyes and instruction, a cake of beeswax, a beeswax candle, a medium kistka, and two egg stands. Findings are optional. The class is led by Karen and Grace McFetters. Anybody can do this and you won't be disappointed. Bring a lunch!
Class to be held on March 18, 10:00 AM until 3PM
Cost is $50 for members, $55 for non-members, all materials included.
Please try to register by March 6