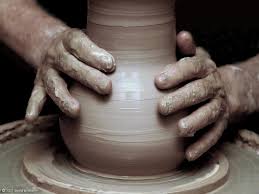 Ceramics & Clay Classes
---
Clay Cactus Ring Holder and Teepee Incense Burner with Brooke Avery / Ages
7 + / Wednesdays, July 12 & 19, 6-8 pm. $30 members, $35 Non-members.
Get inspired by southwestern landscapes of cacti and indian teepees. In this class, you will make both projects, the cactus ring holder and the teepee incense burner. Feel free to come up with your own designs. Maybe you want more than one cactus on your ring dish? Have fun painting tribal prints on the teepee. Once fired and finished, you can take home to enjoy! Prices includes all materials. Enrollment deadline is July 7.
---
Clay Chip and Dip set with Laser Print Patterns with Brooke Avery / Ages 7 + /Wednesdays August 2 & 9, 6-8 pm. $30 members, $35 Non-members.
The beauty about clay is that you can treat it like a blank canvas! In this two day workshop we will be applying laser print patterns with colored slip to the clay. After that, your soft slab of clay will be turned into a stylish chip and dip set! Instructor will have laser prints to choose from, or if you would like your own design, call ahead for details and we'll be happy to print out your pattern for you. Once fired and finished, take home to enjoy! Enrollment deadline is July 29
---
Clay Totem Poles with Brooke Avery / Ages 7 + /Saturdays, September 2 & 9,
10am-noon. $30 members, $35 Non-members.
Totem pol
es represent important life events or stories. Think ahead of what you would like to put on your totem pole. Maybe you have a happy memory of going to the beach, so you would put seashells and fish on your totem pole. To create, you make a base, spacers and larger symbolic objects. It's up to you on how your overall totem pole will look like! You are more than welcome to bring in a friend to help make the totem pole with you, if you'd like. Especially if the two of you share a life story together! No extra charge for buddies making one totem pole together. Once fired, instructor will give you the metal rod to assemble the pieces with. Super easy, once rod is glued in place, slide the clay pieces on top! Enrollment deadline is August 30.
---
Pottery Fundamentals with Brooke Avery / Ages 16 + /Thursdays, September
14-October 26 from 6-8 pm. 3 Students Max.
This class is designed for all potters, whether you are a beginner just starting out or an advanced potter that would like to learn something new. Beginners will learn the fundamentals of pottery; wedging clay, centering the clay on the wheel and pulling up the clay to make different forms. The three basic forms to make on the wheel are a mug, plate and bowl. After that, you should feel more comfortable with exploring different shapes and forms, such as jars, bottles, vases. This class in not limited to wheel throwing either, we will be going over handbuilding as well. We will also explore surface design, how to apply images, patterns and glazes to the clay. $180 members, $190 Non-Members. Enrollment deadline is September 1.
Pottery Fundamentals Students
Students who are enrolled in a 6 week pottery class are welcome to use the classroom as Open Studio during RAG business hours, just as long as there are no other classes using the room during a certain time. Please arrange with management for key and classroom access. Hours are M-F 10am-5pm and Saturday 10am-2pm.
---
Hibiscus Luminary Carving Workshop with Dawn Tagawa:
Class meets on Wednesday September 20th, 6-8pm for ages 16 and up
Create your perfect end of summer artwork. These luminaries will create stunning accent lighting for your outdoor dinner parties. Indoor/Outdoor use with led lights or candles. The luminary form will be made and ready for you to carve. There will be a simple outline on the piece along with personal and class instruction. Pick up your finished, glazed piece in 2 weeks from the arts guild. Enrollment deadline is September 13. Prices $30 for members, $35 for non-members.