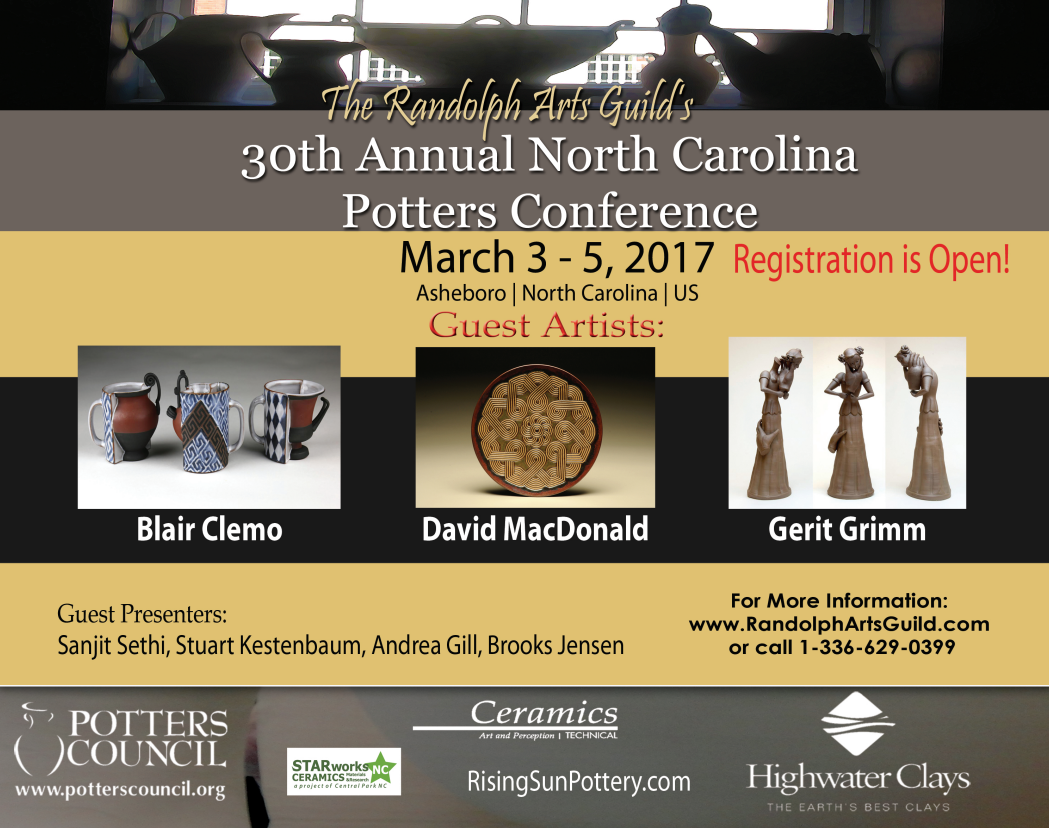 #NCPottersConf
March 3, 4, 5, 2017

---
ABOUT CONFERENCE
The North Carolina Potters Conference is a premier ceramics conference.  Through its history the conference has featured the some of the best ceramics artists from around the world.  This conference centers on simultaneous demonstrations cultivating a dialogue of techniques, concepts, and experiences between the artists and the audience.  Unlike other conferences, you do not have to pick and choose with workshops to attend.  All the demonstrations and presentations are scheduled for the entire group. Potters at any skill level will come away with new ideas and inspiration to improve their work.  Even non-potters have found the weekend a worthwhile introduction into the world of ceramics.
---
REGISTRATION
The Conference Registration Fee is $250 – Includes Lunch and Dinner on Friday and Saturday and Lunch on Sunday.  Participants are responsible for securing their own accommodations.
Pre-Registration is Required.
 Confirmations will be sent via email.
---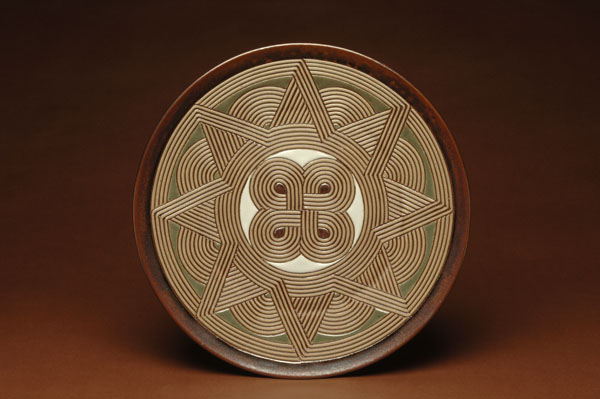 David MacDonald
A native of New Jersey, Prof. MacDonald received his undergraduate degree from Hampton University, where he studied under the noted African American ceramic artist Joseph Gilliard. After receiving his Master of Fine Arts degree at the University of Michigan in 1971, he joined the faculty of the School of Art and Design at Syracuse University. Professor MacDonald's creative work is mostly inspired by his investigation of his African heritage. Looking at a variety of design sources in the vast creative traditions of the African continent; Mr. MacDonald draws much of his inspiration from the myriad examples of surface decoration that manifests themselves in the many ethnic groups of Sub-Saharan Africa (such as pottery decoration, textiles, body decoration and architectural decoration). Prof. MacDonald's work is represented in many public and private collections throughout the nation. His work has also been featured in several ceramic textbooks and magazines. Upon retiring from Syracuse University in 2008, he was awarded Professor Emeritus status; and in 2011 he was given the Excellent in Teaching Award from the National Conference for Education in the Ceramic Arts. Since his retirement he has been active lecturing across the country and working in his studio.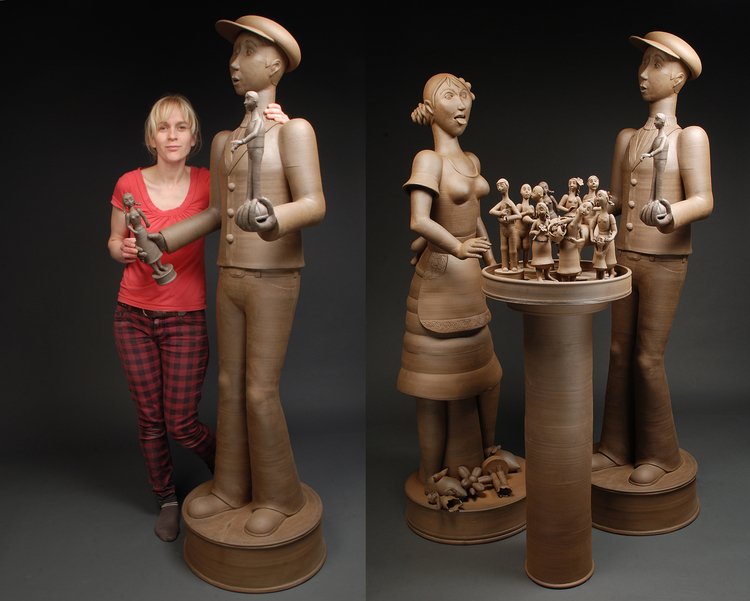 Gerit Grimm
Gerit Grimm was born, and grew up in Halle, German Democratic Republic. In 1995, she finished her apprenticeship, learning the traditional German trade as a potter at the "Altbürgeler blau-weiss GmbH" in Bürgel, Germany and worked as a Journeyman for Joachim Jung in Glashagen, Germany. She earned an Art and Design Diploma in 2001 studying ceramics at Burg Giebichenstein, Halle, Germany. In 2002, she was awarded with the German DAAD Government Grant for the University of Michigan School of Art and Design, where she graduated with an MA in 2002. She received her MFA from the New York State College of Ceramics at Alfred University in 2004. She has taught at CSULB, Pitzer College, Doane College and MSU Bozeman and has worked at major residencies like Mc Coll Center, Bemis Center, Kohler Arts & Industry Program and Archie Bray Foundation. In 2009 NET Television created "Fantasia in Clay" a Nebraska Story about artist Gerit Grimm. Grimm is now an Assistant Professor at University of Wisconsin, Madison.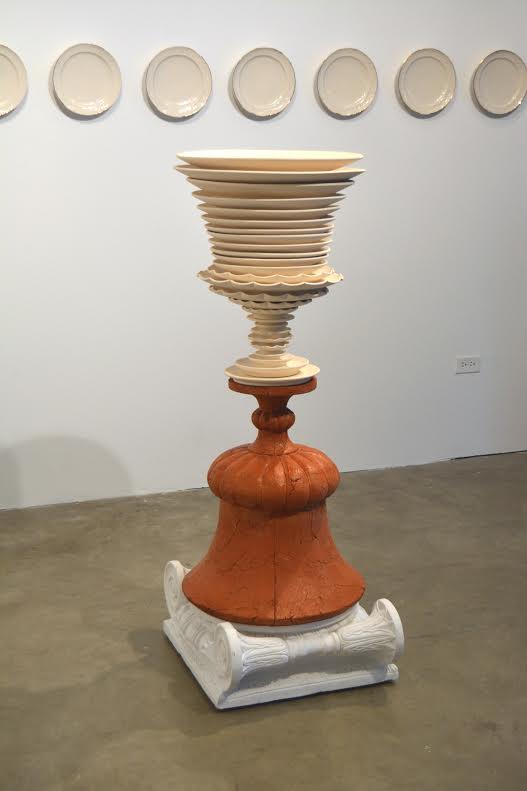 Blair Clemo
Blair Clemo is a potter and Assistant Professor of Craft and Material Studies at Virginia Commonwealth University. He received his MFA in Ceramics at the New York State College of Ceramics, Alfred University in 2010. Originally from Doylestown Pennsylvania, Clemo spent many years out west studying ceramics and working at small production potteries in Idaho and Montana. He has been an Artist in Residence at The Northern Clay Center (Minneapolis, MN), the Da Wang Culture Highland (Shenzhen, China), the Zentrum für Keramik (Berlin, Germany), The Jingdezhen International Studio (Jingdezhen, China) and The International Ceramics Studio (Kecskemét, Hungary) funded by the 2013 NCECA International Partnership Grant. Clemo's utilitarian and installation work has been included in numerous solo and group exhibitions both nationally and abroad.
---
CONFERENCE PRESENTERS
Stuart Kestenbaum
Stuart Kestenbaum is the author of four collections of poems, Pilgrimage (Coyote Love Press), House of Thanksgiving, Prayers and Run-on Sentences and Only Now (all Deerb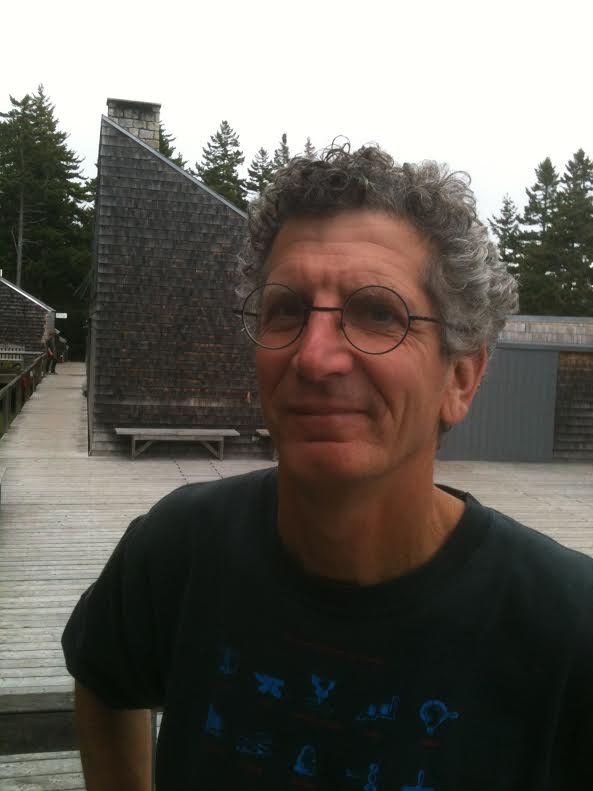 rook Editions), and a collection of essays The View From Here (Brynmorgen Press). The director of the Haystack Mountain School of Crafts from 1988 until 2015, he has written and spoken widely on craft making and creativity, and his poems and writing have appeared in numerous small press publications and magazines including Tikkun, the Sun, the Beloit Poetry Journal, and on Garrison Keillor's Writer's Almanac. Former US Poet Laureate Ted Kooser has written "Stuart Kestenbaum writes the kind of poems I love to read, heartfelt responses to the privilege of having been given a life. No hidden agendas here, no theories to espouse, nothing but life, pure life, set down with craft and love." He was appointed Maine's poet laureate in 2016.
Sanjit Sethi
Born in Rochester, New York, Sanjit received a BFA in 1994 from the New York State College of Ceramics at Alfred University, an MFA in 1998 from the University of Georgia, a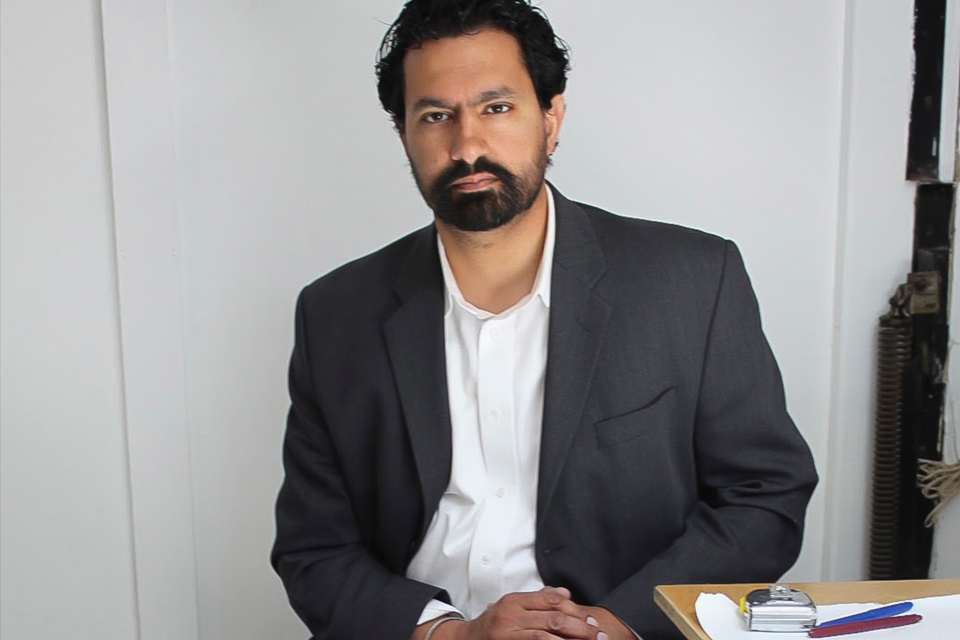 nd an MS in advanced visual studies in 2002 from the Massachusetts Institute of Technology. Sanjit has taught at numerous academic institutions including the Memphis College of Art, the Srishti School of Art, Design and Technology, and California College of the Arts. His work deals with issues of nomadism, identity, the residue of labor, and memory. Sanjit has been Executive Director of the Santa Fe Art Institute (SFAI) and previous to that was Director of the Center for Art and Public Life and Barclay Simpson Professor/ Chair of Community Arts at the California College of the Arts. Sanjit is currently the Director of the Corcoran School of the Arts and Design at the George Washington University.
Andrea Gill
Since 1984, Andrea Gill has been a Professor of Ceramic Art at Alfred University's School of Art and Design, New York State College of Ceramics. Born in Newark, New Jersey in 1948, Gill studied at the Rhode Island School of Design (BFA, Painting), Kansas City Art Institute and Alfred University (MFA, Ceramic Art). A recipient of fellowships from the National Endowment for the Arts, the Tiffany Foundation, The New York Fo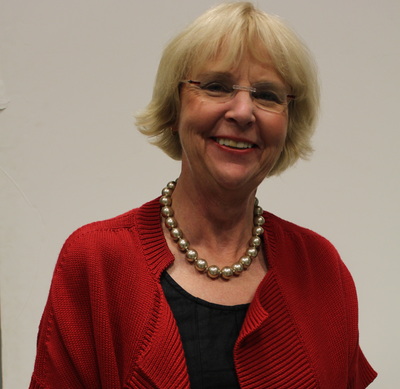 undation for the Arts and the Ohio Arts Council. In 2012 Gill received the Voulkos Fellowship Award from the Archie Bray Foundation. Gill's work is in the collections of the Victoria and Albert Museum in London, the Los Angeles Museum of Contemporary Art and the Renwick Gallery of the Smithsonian Institute and other public and private collections. She was elected as a Fellow of the American Craft Council in 2012 and is a member of the International Academy of Ceramics, Geneva, Switzerland. Gill is represented by the Harvey Meadows Gallery, Aspen, CO. She lives in the Village of Alfred, NY, with her husband, John, an internationally recognized ceramic artist.
Brooks Jensen
Brooks Jensen is a fine-art photographer, publisher, workshop teacher, and writer. He and his wife (Maureen Gallagher) are the owners, co-founders, editors, and publishers of the award winning LensWork, one of today's most respected and impor
tant periodicals in fine art photography. With subscribers in 72 countries, Brooks' impact on fine art photography is truly world-wide. His long-running podcast on photography and the creative process is heard over the Internet by thousands every day. Brooks Jensen is the author of eight best-selling books on photography and creativity: Looking at Images, The Creative Life in Photography, Letting Go of the Camera, the three volume set Single Exposures: Random Observations on Art, Photography and Creativity. His most recent books are Looking at Images (published in 2015) and Seeing in SIXES (published in 2016). A monograph of his work was published in 2012 titled Made of Steel.
---
CONFERENCE REGISTRANTS  ARE INVITED
SUNDAY at 2:00 PM 
THE NC POTTERY CENTER in SEAGROVE, NC
RAY OWEN will give a 30 minute discussion
"The Busbees and the Jugtown Legacy"
Ray Owen is a writer and conservationist who has been a contributer to "O. Henry" and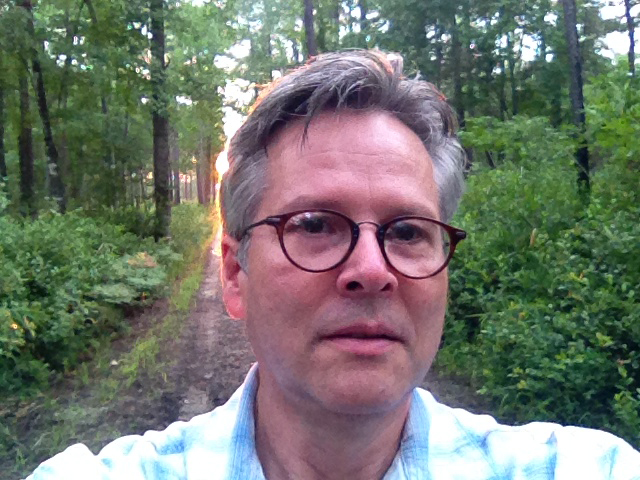 "PineStraw" magazines. Recent projects include writing the words for composer David Ludwig's "Songs from the Bleeding Pines," commissioned in 2016 by the Ravinia Festival in Chicago. Other recent work includes writing the forward for "Jugtown Pottery 1917-2017: A Century of Art & Craft in Clay," featured guest for UNC-TV's Collecting Carolina series, and narration for the film "More Than Pine Trees and Sand: Disappearing Frogs Project." Film work includes writing and directing "Siren of the Round Timber Tract," premiering in April 2017. Public service has included the Stewardship Council of the Cultural Landscape Foundation and Vice President of Friends of Weymouth.
---
REFUND POLICY
Because plans are made on the basis of the number of registrations – funds are obligated in advance of the Conference.  Those who cancel prior to February 1st will receive a full refund.  Those who register and cancel prior to February 15th will receive a $100 refund.  No refunds will be made after February 15th.
---
Dwight M. Holland Scholarship
In 2012 a scholarship fund was started to honor Dwight Holland, his vision, and his years of leadership for the NC Potters Conference. A limited number of scholarships will be available for students to attend the conference.
Eligibility
To be considered, applicants must be currently enrolled in an undergraduate or graduate studies program with a focus on ceramics.
Apply
To apply, send an email to DwightHollandScholarship@gmail.com with the following:
3 – 5 images of your work
Essay 500 words or less about why attending conference would be of benefit to your education and career.
Extended Deadline January 31st, 2017.
---
CONFERENCE EXHIBITION
Each potter in attendance may bring a maximum of five representative pieces for display at the Conference. Pieces for sale should be priced to include a 25% commission to the Randolph Arts Guild.  Payment for items sold (less the 25% commission) will be mailed on April 15th.
---
LODGING
Attendees are responsible for their own accommodations.
Housing for Conference Presenters Provided by our Host Hotels
Use Rate Code: RAG
Fairfield Inn | 336-626-9197
Hampton Inn | 336-625-9000
Other Accommodations:
Holiday Inn Express | 336-636-5222
Quality Inn | 336-626-3680
Comfort Inn | 336-626-4414
CAMPING
Deep River Campground | 336-626-4069
Holly Bluff Family Campground | 336-857-2761
Zooland Family Camping | 336-381-3422
NO CHILD CARE
There is no child care.  Please, no children at the conference.
SPOUSE CARE
Only an additional registration for the conference secures a space for meals and activities for spouses or accompanying friends
ANIMAL CARE
No pets, please.
---
LOCATION
The North Carolina Potters Conference is sponsored by the Randolph Arts Guild and is headquartered in the W. H. Moring, Jr. Arts Center located at 123 Sunset Ave. in downtown Asheboro, NC.  The events scheduled for Friday – Saturday are held in different buildings throughout downtown Asheboro and are all within walking distance to the Randolph Arts Guild.  However, this means you will be walking quite a bit.  Limited parking is available at all locations. The hotels are about a 15min drive from downtown Asheboro.
---
AGENDA
Thursday
6:00 Reception/Networking Event
Friday
8:00 Registration/Check-In
9:00 Welcome, Announcements
9:15 Slide Presentations – David
MacDonald, Blair Clemo,
Gerit Grimm
11:00 Break
12:00 Lunch
1:30 Demonstrations – David
MacDonald, Blair Clemo,
Gerit Grimm
3:00 Break
3:15 Demonstrations Continue
5:00 Break
6:00 Dinner
7:00 Stuart Kestenbaum, Guest
Speaker
Saturday
9:00 Demonstrations – David
MacDonald, Blair Clemo,
Gerit Grimm
10:30 Break
10:45 Demonstrations Continue
12:00 Lunch
1:30 Demonstrations Continue
5:00 Dinner
After the Pig Picking you are invited
to an After Dinner Party at Dwight
Holland's
Sunday
8:45 Introductions
9:00 Sanjit Sethi –
Guest Speaker
10:00 Andrea Gill – Guest Speaker
11:00 Brooks Jensen – Guest
Speaker
12:00 Lunch
2:00 NC Pottery Center in Seagrove, NC  – Guest Lecture by Ray Owen
---